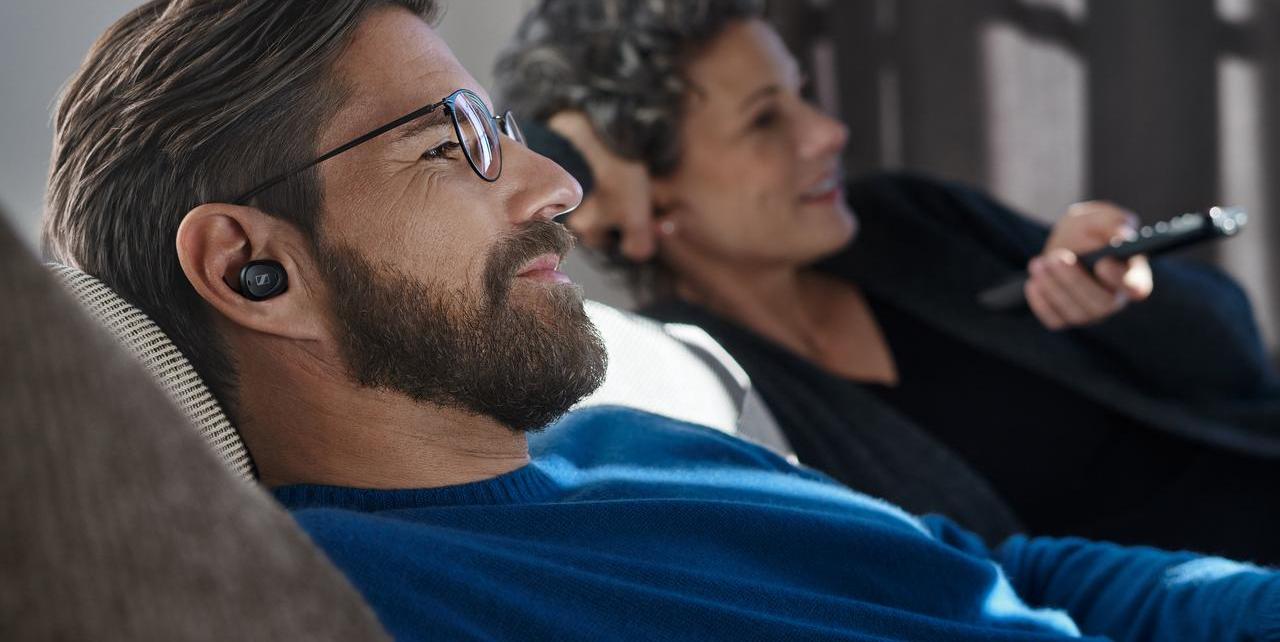 TV blir aldri det samme igjen
Sennheiser TV Clear kommer med krystallklar lyd i et lett True Wireless-format.
Wedemark, 31. mai 2022 – Hvis du foretrekker å leve på egne premisser, hvorfor skal du nøye deg med noe mindre når det gjelder TV-lyd? Med nye Sennheiser Clear TV kan du nyte TV-tittingen med enestående lyd med all den bekvemmeligheten, komforten og stilen som følger med True Wireless-øreproppene. Transmitteren sikrer lav responstid for alle TV-apparater med optisk eller analog utgang. Og i motsetning til konvensjonelle TV-løsninger, kan TV Clear sømløst kobles til via Bluetooth for å se dine favorittserier på TV-en eller din bærebare PC, nettbrett eller smarttelefon. De kan også brukes til anrop via telefonen din.
For mer informasjon, les videre på engelsk nedenfor: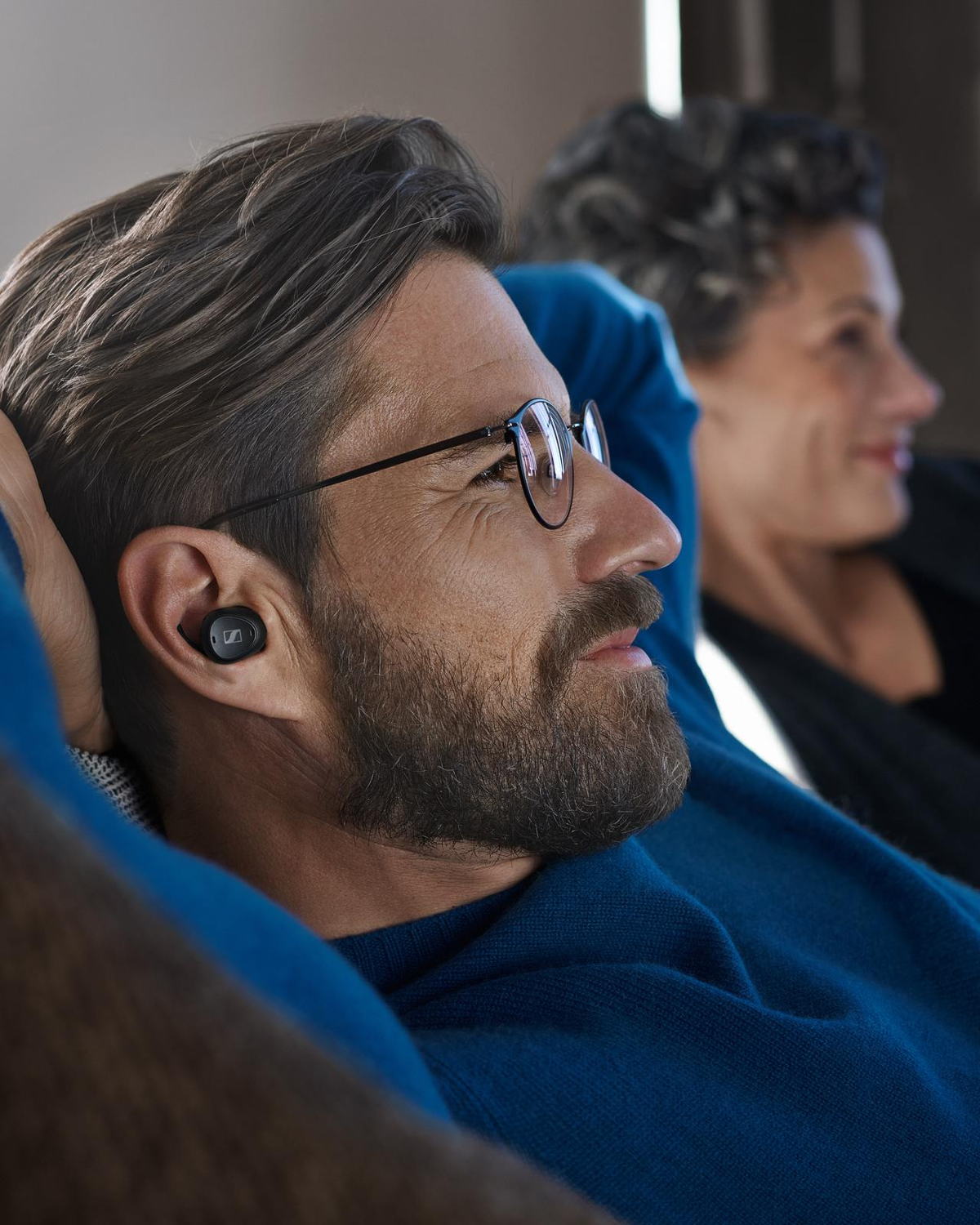 TV Clear lets you enjoy TV entertainment your way. For a personalized audio experience, you can choose from five speech clarity levels – providing up to 20 dB high-frequency amplification – to experience crystal-clear dialog. You can also set your own preferred volume level on the earbuds independently from that of the television or other audio source when using them with the transmitter, to enjoy undisturbed viewing while others watch at a sound level comfortable for them.
​
​Listen alone or at your own preferred volume with friends
​As well as providing the option of watching your television without disturbing those around you or being distracted by external noise, TV Clear lets you choose to stay connected to others when desired. Its Ambient Awareness mode lets you hear external sound while wearing the earbuds – ideal for TV viewing with family or friends, or users can switch off the mode for more privacy.
​
​TV Clear is a universal solution that offers multiple device connectivity: link to televisions with the transmitter or seamlessly connect to multiple devices including televisions, tablets and smartphones via Bluetooth. For TV viewing, the transmitter's low latency streaming technology keeps audio and video in sync for a great viewing experience.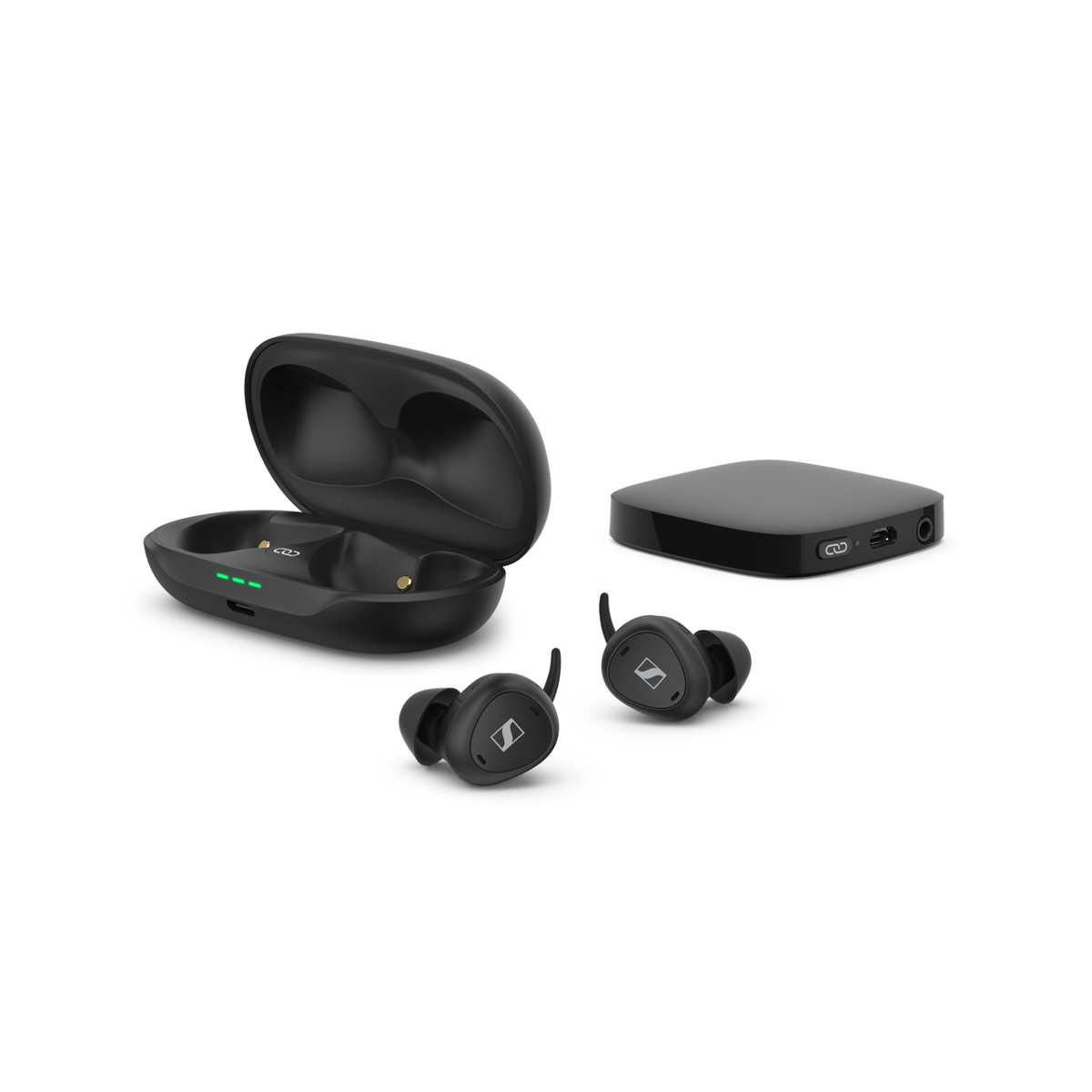 The 6.9g lightweight nature of the True Wireless earbud design is a revelation in comfort and convenience that can be worn for extra-long binge-watching sessions without interfering with your glasses or pressing on your temples. The inconspicuous wire-free design and secure fit provided by a selection of secure-fit ear tips and fins in different sizes let you move freely. Whether you want to sit back, lie down or walk around, the TV Clear earbuds will stay comfortably in place without disturbing your viewing pleasure.
​
​Personalize your experience with the TV Clear App
​TV Clear makes it simple to enjoy its advanced features thanks to its effortless ease of use. Customizing the settings and listening experience is easy with the companion TV Clear App, which guides you through every step. The intuitive touch controls can also be customized according to individual preferences, so the earbuds can be controlled just the way you like. There is even a Find My Earbuds feature that makes them easy to locate.
​
​TV Clear also features a long-lasting battery that provides up to 15 hours of listening time on a single charge when used with the transmitter. The earbuds can be easily stored and recharged with the compact and stylish charging case to add a further 22 hours – letting you enjoy up to 37 hours of TV entertainment.
​
​Pris og tilgjengelighet
​Sennheiser TV Clear vil være tilgjengelig for kunder i Norden fra og med slutten av juni. Veiledende prise er 4 390 NOK.
---
---
---
Paul Hughes Head of PR and Influencers - Sennheiser Headphones & Soundbars, Sonova Consumer Hearing GmbH